WHO doesn't like coffee?! (Well, I don't. But other than me? No one!)
I do know lots of people who do love coffee. And I totally took advantage of that this winter with many made gifts that were coffee sleeves. I made them several many different ways. Here's a favorite though.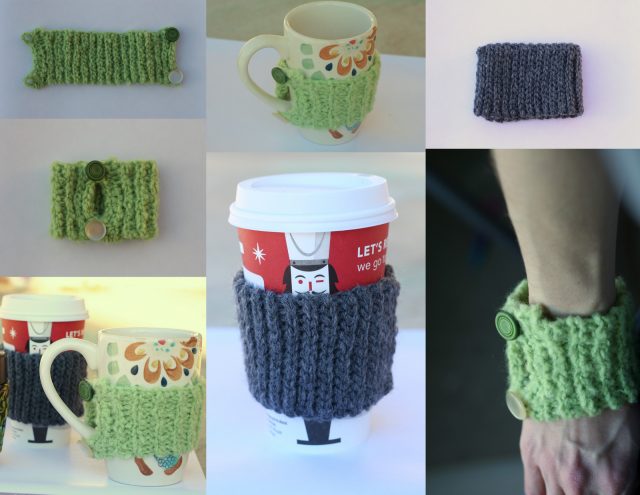 I also like that it fits nicely around your wrist for when you're walking into a coffee shop.
Knit Look Crochet Coffee Sleeve/Mug Cozy
Pattern
worsted weight yarn and a large crochet hook. I used a J because my K hook has mysteriously vanished. (Probably lost in the couch.)
ch 13
Row 1: sl st blo 2nd from hook and each across, ch 1, turn
Row 2: sl st blo each across, ch 1, turn
Repeat row 2 until your mug cozy stretches around your coffee cup. (Will vary depending on your yarn and hook size but mine were about 31 rows)
You can sew the sides together and call it a day… Or if you want it to work with mugs as well, or you just want buttons on it, you can make loops like I did. I fastened my buttons where I wanted them (on the row 1 side not the side.) Then I worked sc up until I needed my button loop, then ch until your ch fits around your button, join back with a sc and sc up until you need the next button loop, again ch until it fits around the button, and again join back with a sc and sc to the end of the row. Finish and sew up loose ends.