I recently found a blog devoted to vintage sewing machines that invites their owners to write reviews of their favorite machine. Here's mine! And if you'd like more reviews of awesome vintage machines please check out her site at http://zigzaggers.typepad.com/.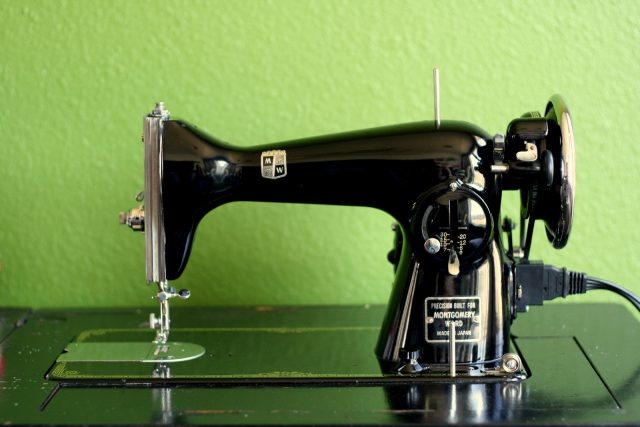 Love it, hate it, or something in between?
Love, definitely! This is my first vintage sewing machine and I learned how to clean and adjust machines from this one. I really enjoy sewing with it and love how beautiful these old machines are and what incredible quality they were made with. Though I have 4 sewing machines currently, I think I may sell all but this one. (Okay, maybe all but this one and 1 other?) Though it's a simple straight stitch machine, it can sew through anything like butter! I can increase or decrease the pressure on the material and drop the feed dogs.
When did you buy this sewing machine?
Four months ago. It seems like much longer ago than that!
When was it manufactured?
1950s? It's a "clone" of a Singer 15-91. There's very little info about Montgomery Ward machines, so it's hard to date it. I did recently find out it's a model URR 188 and found the manual for it online. I actually like that it doesn't have "the" name brand on it… or even a close second. This machine is beautiful and I'm so happy to get to work with her!
Where did you buy it?
It was a craigslist find. The guy I got it from said he got it from the attic of someone's house when he was helping them move. He gave me a box full of Greist sewing feet and attachments to go with it. Love these and the ingenuity of them! I checked out similar sewing machine feet in a store and was amazed that the design of them does not seem to have changed at all in the last 60-100 years! It has attachments for ruffling/pleating, hemming, quilting, zippers, gathering, binding, edge stitching, and more!
How much did you pay for it?
$50. I later had to replace all electrical components (for about $35) and still don't have the light working. I may use an awesome vintage lamp though… once I can find one.
How many projects have you done on this machine?
Countless!
Describe the kind of work you've done with it. Some examples of the wide range of things I've sewn:
-a strap for my husband's weed whacker (out of many layers of jean material)
-layers of painter's canvas for knitting needle cases
-very lightweight woven fabrics for dolls and skirts
-lightweight stretchy knit clothing
-thick knit sweaters to re-purpose into leggings.
It does a great job on everything!
What do you like and what do you hate about it?
Okay. Honestly, I dislike the clovers on it (funny but true and not too important). The gold leafing is not in mint condition. Sometimes the thread slips out of the take up lever, causing instant trouble. Now I recognize the problem immediately and put it back in, and all is well; but it is an inconvenient quirk. When the wiring went bad, I actually got a few low level kind of continuous shocks from it. So I learned my lesson, to take the old wiring on these all-metal machines seriously! I love all the awesome feet it came with. I love the quiet purr it makes when sewing and the feel of it. You can just tell it was made right.