For some reason it seems winter and fall go so well with curling up on the couch with a ball of yarn and crocheting or knitting. But my creativity usually flees when the heat spikes in summer. I do spend much time in my garden and this year we've got a couple new gardens and a couple new little trees to look after. I found out one of our young trees is a mulberry tree and it is fruiting this year. We bought a dwarf apple tree and a walnut tree this spring. So I've been watering, weeding, and watching over all my little plants. I love the slow wait, anticipating fruitfulness. The blackberry plants are in full bloom and I can't wait to forage for them. The kids dig in dirt nearly all day if I let them and build various things with sticks, rocks, dirt, grass, and weeds. I was looking in amusement around our yard the other day. There are pretend campfire sites, handmade grass weaving looms, mounds of dirt and rock, a digging hole, and a sand sifting site.
Still I have come up with a summer project and actually finished it with plenty of hot weather left. Here it's already commonly been in the 90s and will get much hotter for quite a while. Thank goodness for cute summer dresses! I designed and crocheted a warm weather dress for the baby and the free pattern is below the pics. Enjoy, but please don't make the dress to sell, copy the pattern, or sell the pattern. You can link to me if you want though. Thanks!
Oh, and my 14 month old doesn't stand still for a minute anymore so forgive the pictures which are mostly of her getting into things while I chase her around. 🙂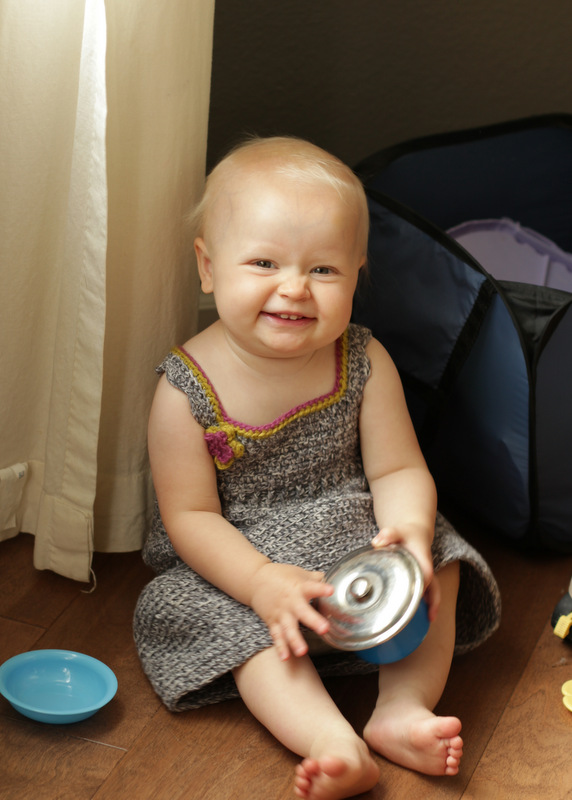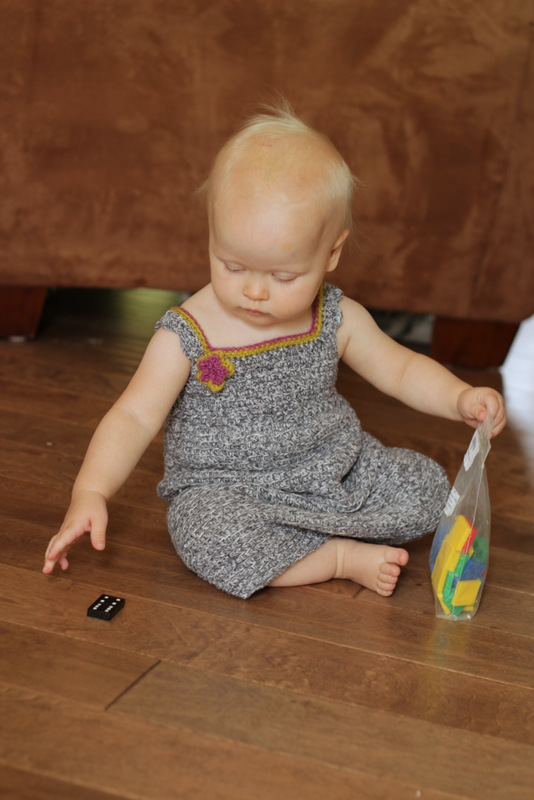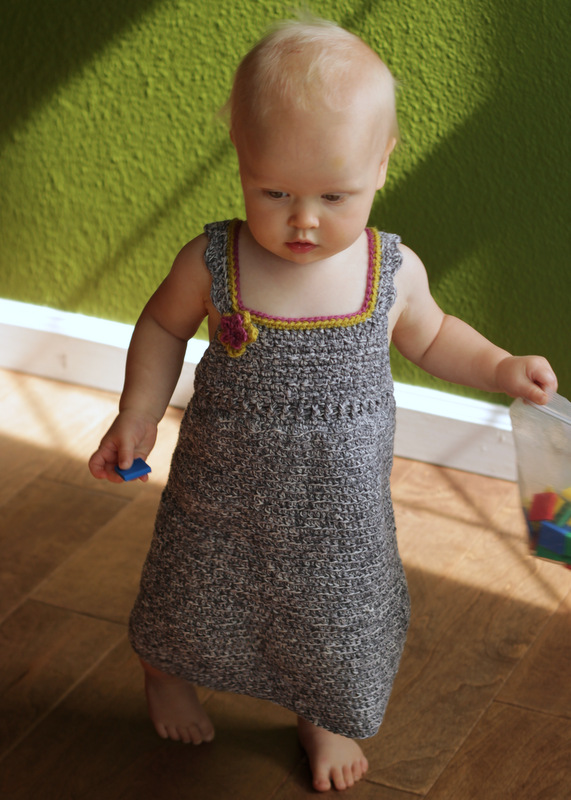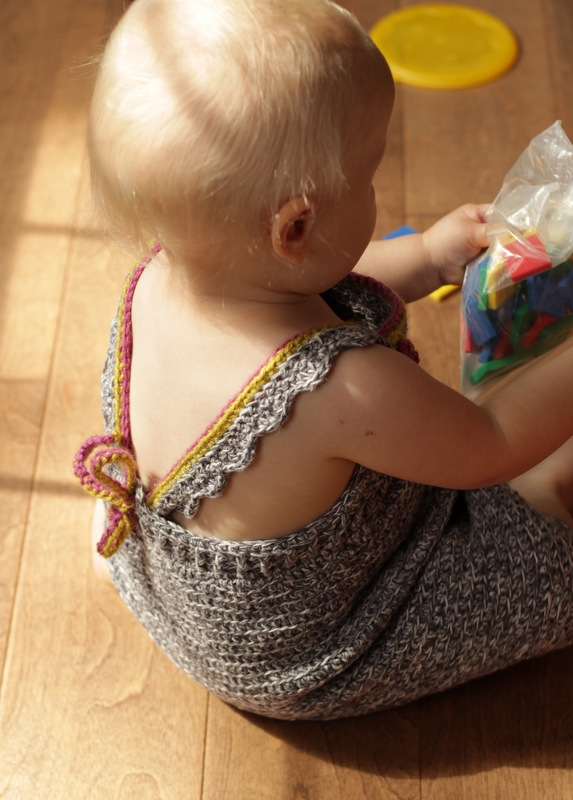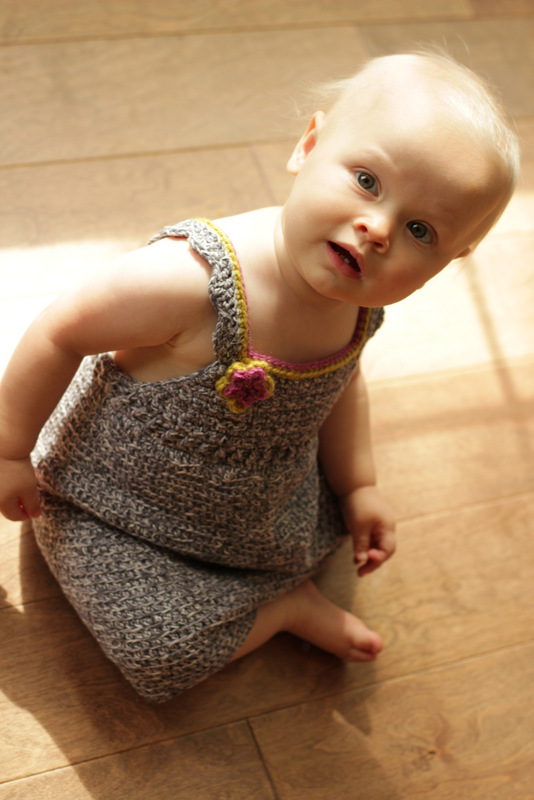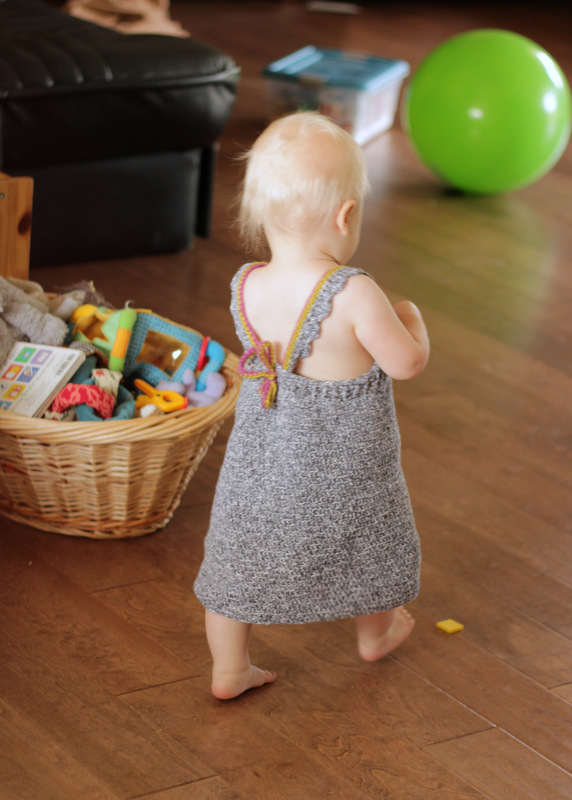 Sweet Summer Dress
Pattern
Size: approx. 1-3 years
E hook The yarn I used was cotton/rayon yarn from a sweater I re-purposed. It was about the same as a baby weight yarn would be.
My 4″x4″ gauge swatch (using hdc blo) was 22 stitches across and 16 rows
blo=back loop only
foundationless sc= this is not hard and is super fun to do so if you don't know how and are up for learning check out youtube.com for instructional videos. It really has to be seen to teach so I'm not even gonna try to explain. 🙂
Body of dress
Row 1: 28 foundationless sc
Row 2: *sc in next, hdc in next* repeat between *s to end, chain 1, turn
Row 3: hdc, sc in next *hdc in next, sc in next* repeat between *s until one stitch is left in the row, hdc, sc in that last stitch, ch 1, turn (30 total)
Row 4: sc even
Row 5: sc, hdc in next, *sc in next, hdc in next* repeat between *s until one stitch is left, sc, hdc in that last stitch, ch 1, turn (32 total)
Row 6: repeat row 3 (34 total)
Row 7: repeat row 5 (36 total)
Row 8: repeat row 3 (38 total)
Row 9: sc even
Row 10: repeat row 5 (40 total)
Row 11: repeat row 3 (42 total)
Row 12: sc across to end of row then do 42 foundationless sc, join with sl st to first sc of this row, ch 2 (84 total)
Row 13: *fpdc, bpdc* repeat around, join with sl st to 1st fpdc of this row, ch 2 (84 total)
Row 14: Repeat Row 13
Row 15: You want to increase on this row so the skirt will be wider than the top. You can increase as much as you want to get as much flare as you want. I did roughly a: 2sc in next, sc in next pattern around but you do need a multiple of 8 so I increased from 84 stitches to 120 (From here on work in the round. That is, do not join or chain at the end of each round, just keep going.)
Row 16: *sl st in next, sc in next, hdc in next, dc in next, tc in next, dc in next, hdc in next, sc in next* repeat around (120 total)
Row 17 to Row 54 (or as long or short as you like): hdc blo even around, finish last row with a sc, sl st to round off.
Straps
Row 1: Join yarn with a sl st 3 stitches from the edge of the neckline, 38 foundationless sc (or however long you need the straps to be) ch 1, turn
Row 2: sc to end, ch 1, turn
Row 3: *sc next, hdc & dc next, tc next, dc & hdc next, sc & sl st next* repeat to end. (I like to end it with a tc. To do that you need to start with a multiple of 5 plus 3.)
Neckline and Strap Trim
In green worsted weight yarn with a G hook
ch 30, join with sc to inside edge (the edge without the scallop) of left strap (left if you were wearing it.) sc down strap toward neckline, across neckline, and up inside edge of other strap. At the end of that strap ch 30.
In pink yarn with a G hook
SC back loop and spine loop loosely over the green stitches.
Flower (one in green, one in pink then layer pink on top of green and sew together and onto dress)
5sc in loop, tighten loop,
sl st, ch 1, dc, hdc, ch 1, sl st in first sc, repeat in each sc around