I've been both intimidated and inspired by people that work with wood for a long time. I want to try my hand at carving someday and I'd also like to be able to go big time and use power tools and all. (Said the girl that wants to be able to make everything.) For now I'm delving lightly into the world of wood-crafting. I decided that wood burning would be really fun and just went for it.
There was a little dead tree in our backyard and when my husband chopped it down I got him to cut some slices of the trunk. He also got me a little wood burning set from the hardware store. I have to say that I love it but it's going to take some time to get more advanced at it. I don't even understand how to shade yet. As my first project I made a rustic little decoration as part of a wedding present for my brother and his new wife.
I was surprised at how easy it is. You really just write on wood with the burner and there are several different tips for different effects. Control, speed, pressure, and technique take time to develop but a simple design was a quick fix for my crafting madness. I did practice briefly first to get the feel for it. It's a good idea to pencil in what you want to write too. That's really all there was too it for this project and now I'm just dreaming of what I want to make next. 🙂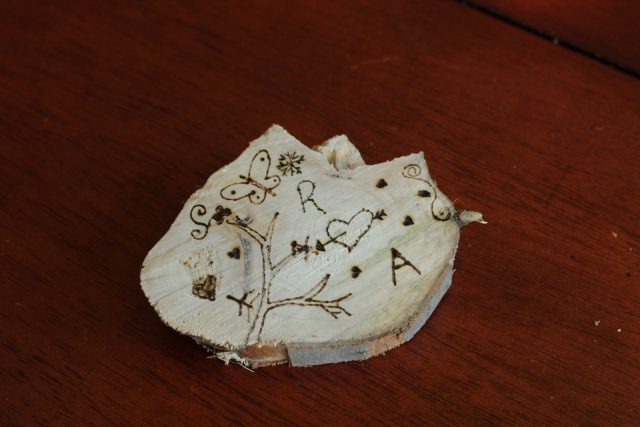 practice….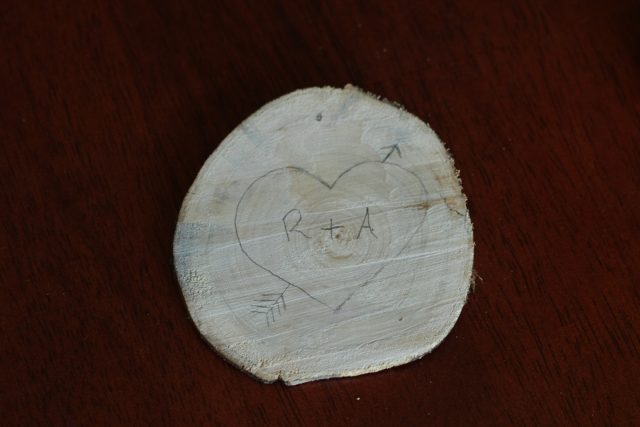 penciled in…