On our winter break we've had a lot of fun. And a lot of sickness. But we're all better again and back to having fun with lots of art and projects. The kids and I loved working with salt dough for the first time. Before Christmas we used a lot of our cutouts to make Christmas shapes. Can you tell which two I got my hands on? There was a lot of supervising a 21 month old with glitter otherwise. Last time we got out glitter my husband would find it stuck to his socks or on the children's eyelids days later. This time I gave him prior warning that glitter was in use and would likely linger for a few years.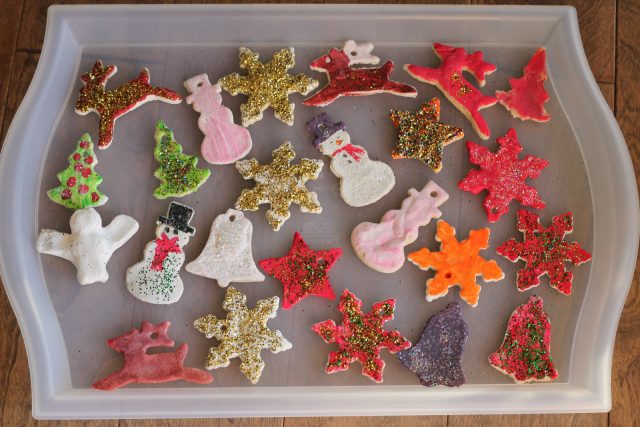 We also made hand prints of the little ones. I love having these. The kids love having them. They wonder that, while their hands fit perfectly into them now, that after a while their hands will be much bigger than those old impressions.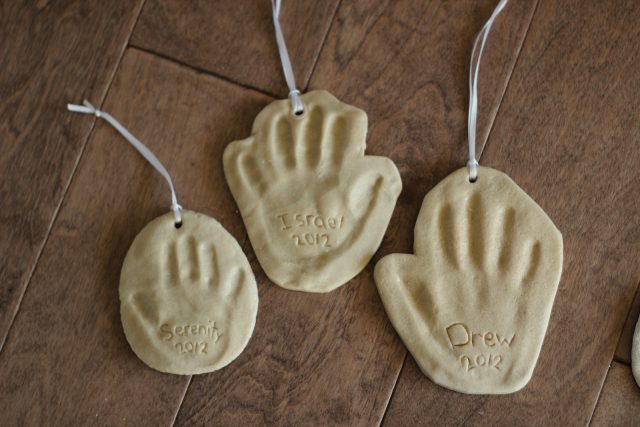 I looked at a lot of recipes online and decided to use this one.
1/2 cup salt
1 cup flour + more
1/2 cup water
Stir the ingredients together in a bowl. Add more flour if extremely sticky. Knead on lightly floured surface until very soft and smooth. Continue to dust dough and surface with flour with kneading until not sticking. Roll out with floured rolling pin to desired thickness and cut out with cookie cutters. We rolled out thicker slabs to press their hands in. We also trimmed around them, smoothed the edges with a finger, and carved their names and the year in them. We used straws to punch holes. We baked them at 200° F and how long it takes depended on the thickness. Some of mine took 2-4 hours. Others never baked completely in the oven. I think it is too humid here. My dehydrator for a few more hours worked perfectly on the very thick ones. Next time I think I'll just use the food dehydrator on the highest heat setting for all. When they were cooked and cooled I let the kids go crazy with paint and glitter.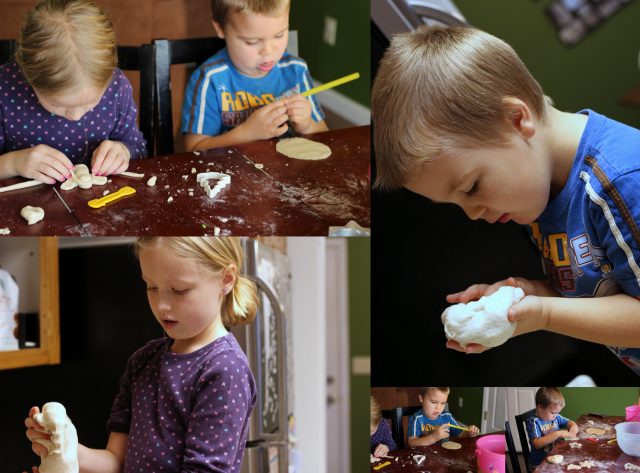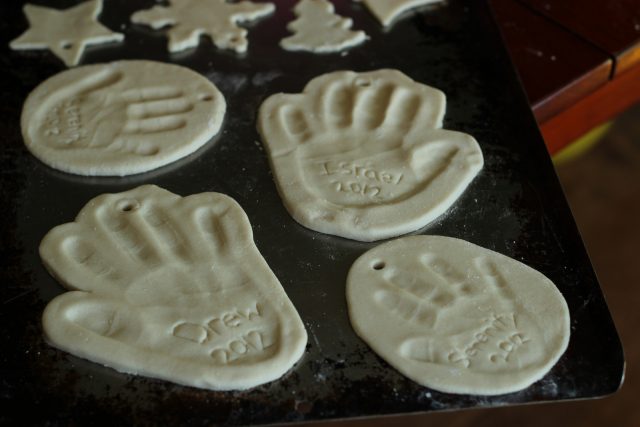 We did not get out stamps but there are some really beautiful stamp ideas on pinterest if you're interested in making something more sophisticated. You stamp the dough before baking.
A tip I have is to not put them anywhere near anything moist. I had ours all standing in a line on our kitchen window sill. The condensation on the window was too much for them though and they shortly turned to mush. 🙁
The hand prints, though, I had sealed and put by our Christmas tree so they were safe. Oh well, we will make more next year!