Yes, more cozies. No this is not the end of cozies posts. (That just sounds weird.)
Here's the crochet coffee cozies I made if you missed that and wonder what I'm talking about. A short time after making these I decided that crochet gifts were taking too long started sewing them. I was so happy when I came out with these awesome cozies.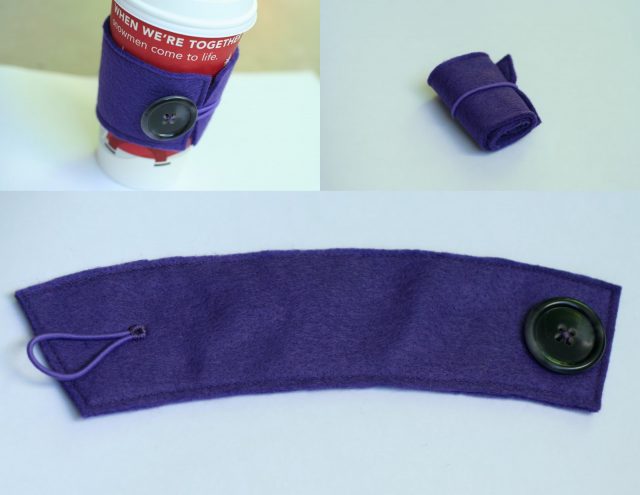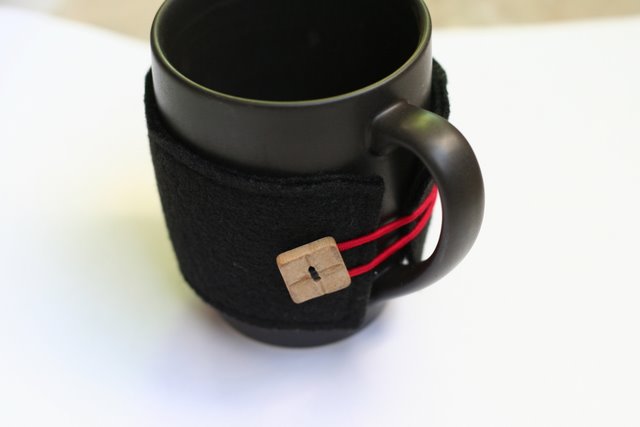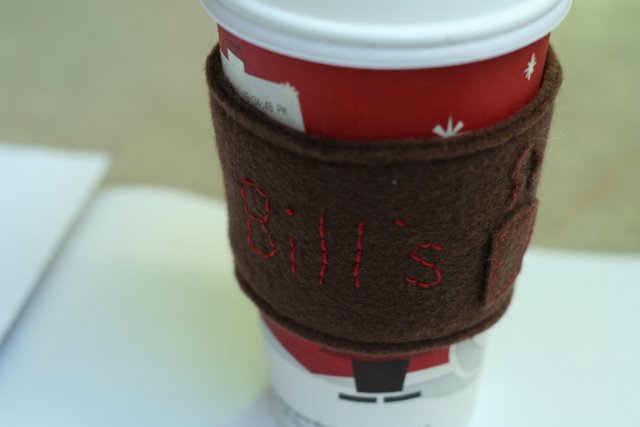 It was an easy project and they work much better than thin cardboard ones at keeping your fingers from burning… or freezing with cold drinks. They work great on mugs and a variety of cup/mug sizes thanks to the button and elastic.
Felt Coffee Cozies
Tutorial
To make some yourself just take apart a standard cardboard coffee cozy for a pattern. I cut off the part that overlaps… a little tab on one end. Next, I cut out two pieces of felt using the pattern.
Then (if you want to) decorate one of the pieces of felt with other pieces of fabric or embroidery. You could use ribbons or anything else you can dream up!

I learned toward the end of making these that you can stiffen (and therefore make more sturdy) the little bitty pieces of felt with a VERY thin coat of mod podge on the back of them. Practice this on scraps first so you can get it right.
Then sandwich your two pieces of felt together (wrong sides together) and sew around the edges. This covers up the back of any embroidery and makes the cozy nicely padded.
Last step! Finally sew on an awesome button and an elastic hairband. I put the center of each button about 1 inch from the edge then held the cozy around the smallest cup I wanted ti use it with to get the position of the elastic band perfect.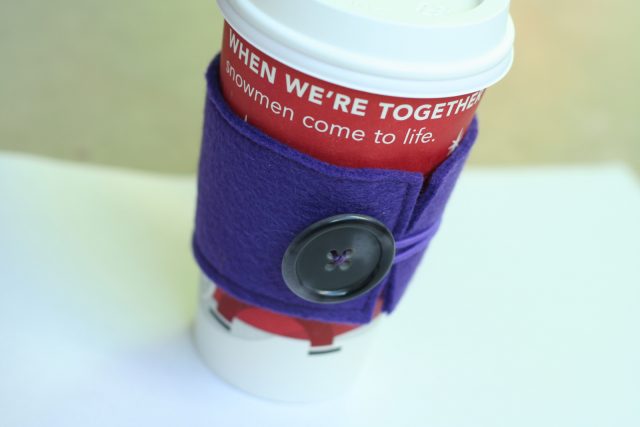 Did I mention that the cozy rolls up very nicely and then you can stretch the elastic around it? It would be easy to attach this to a keychain to keep it handy for coffee shop runs.