You might recall that I like to make new things from old sweaters. I've shown you how to unravel sweaters to up-cycle yarn, make them into wool cloth diaper covers, convert them into dresses, and sew them into skirts. One of my favorite thrift store finds is huge sweaters because up-cycling a knit fabric from clothes makes it much easier for me to get that beautiful knit look… without doing all that knitting myself! The sweater I turned into this footstool was $4 (half off) from a thrift store and is a lovely charcoal gray 100% wool. I had everything else I needed so my total cost was $4!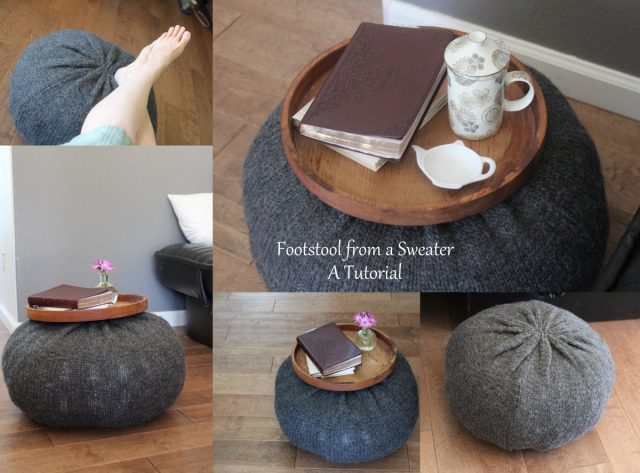 If you've not seen, there are some really awesome knit "pouf" footstools going around on design tv and online. I have wanted to make one of these for myself for a long time. But I put a twist to it that made it easy, quick, and doable with what I had.
Footstool From a Sweater
Tutorial
For the stuffing I used a down pillow top mattress topper we didn't want to use on our bed anymore. Old duvets or comforters would work for this too. I bunched it up and to keep it in the shape I wanted I wrapped it in a big Ikea shopping bag, taped this with packing tape, and then wrapped it in a blanket. I know, unconventional. But in other instructions online people just said they bunched up duvets. This really did not work out well for me so I improvised.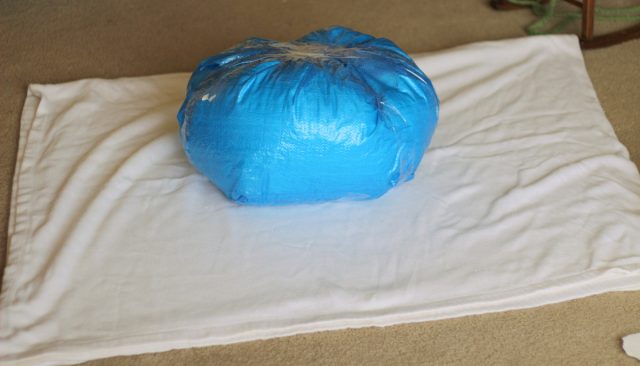 mattress toppper in ikea bag taped up and about to be wrapped in blanket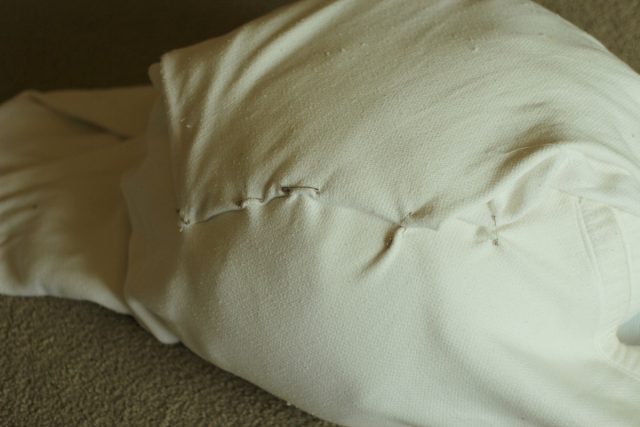 wrapping and pinning blanket
It looked a bit like a franken-something at this stage but, hang with me, it turned out awesome. I used safety pins to temporarily hold the blanket folds where I wanted them then handstitched it together.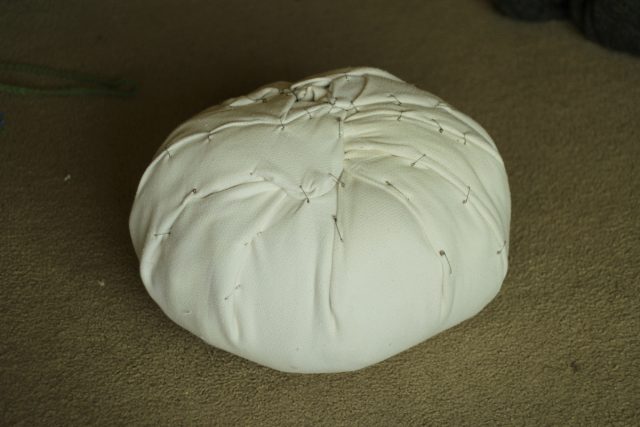 pinned
It may sound like a lot of work but I used a large curved needle and made big sloppy stitches just weaving along. It went pretty fast.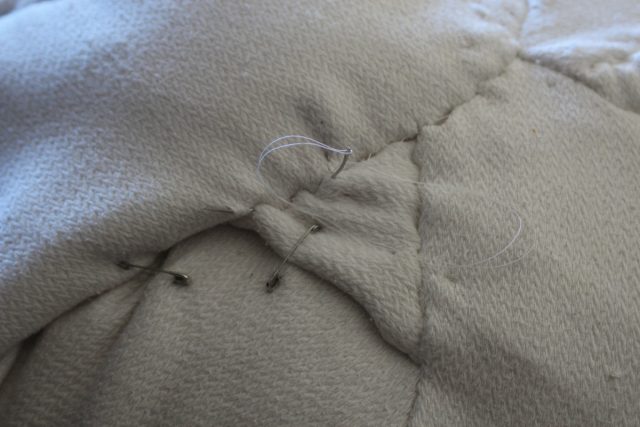 sewing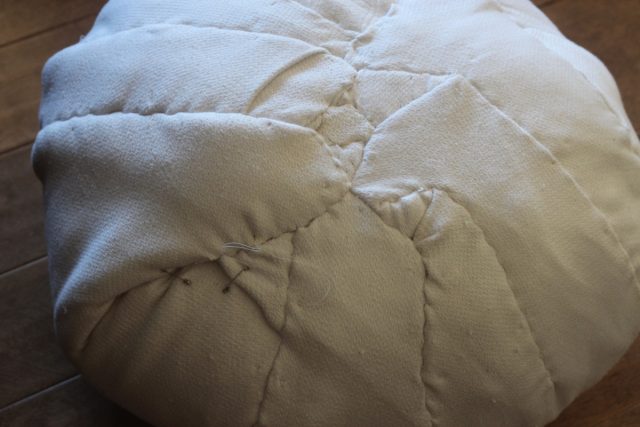 Franken-footstool
Next I grabbed my huge sweater (a size XXL men's) and pulled it over the puff.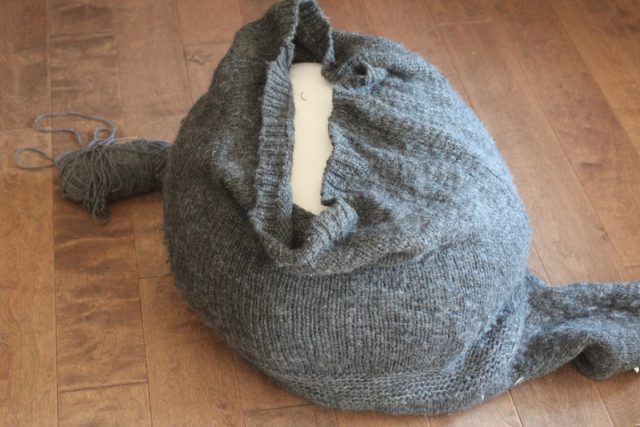 I wove a strong cotton cord around the sweater just above the hem. (In the picture it's yarn but the yarn broke shortly after the pic and I switched to the cord.)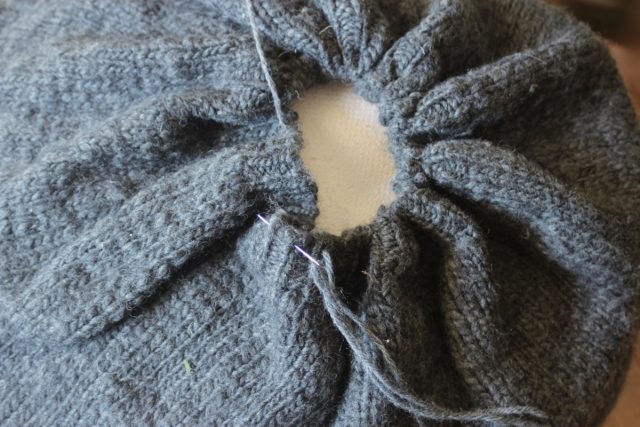 When I got all the way around I pulled it tight like a drawstring, tied a strong knot in it and tucked the knot, loose ends, and any extra fabric inside the hole.
I'd pictured being able to cut right below the arms but my sweater wasn't quite tall enough for this. So next I took off the arms of the sweater and sewed up the openings. I cut through the threads holding the arms onto the body of the sweater, then pinched both ends of the fabric right sides together and crocheted through them using matching yarn. This was just to match the nice looking side seams of the sweater but if you chopped and sewed it would save on time.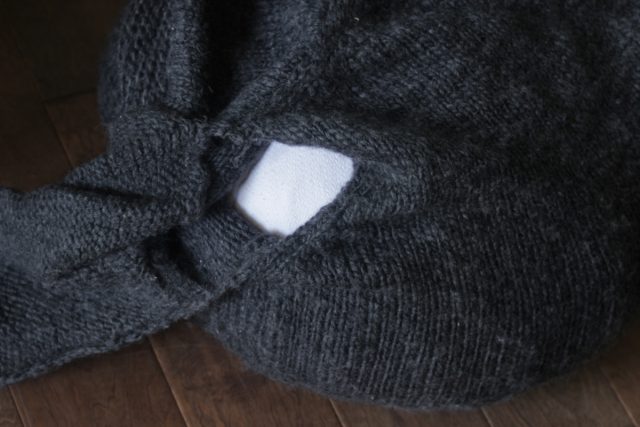 detaching arm from sweater body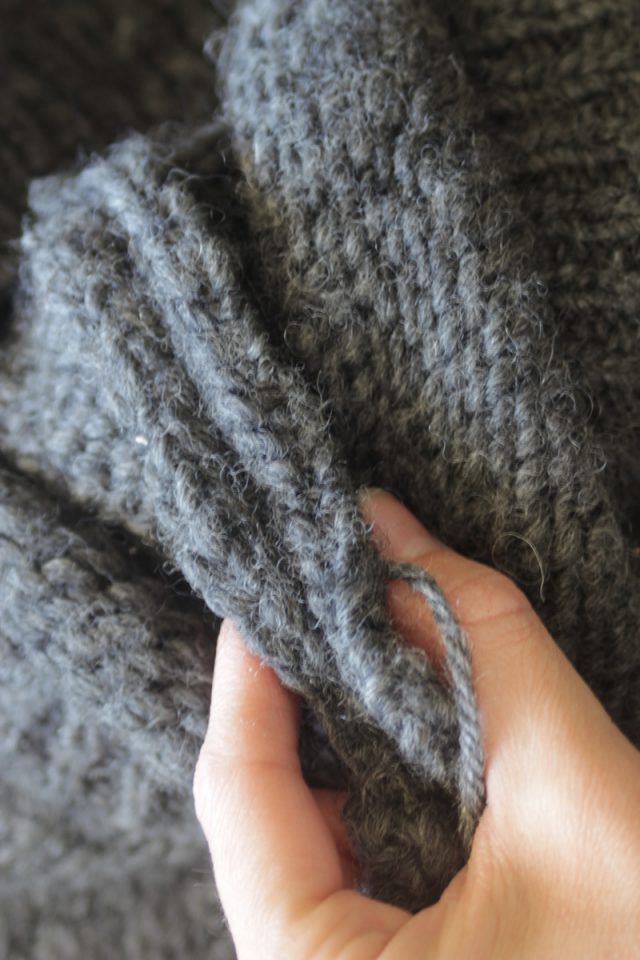 closing up arm hole…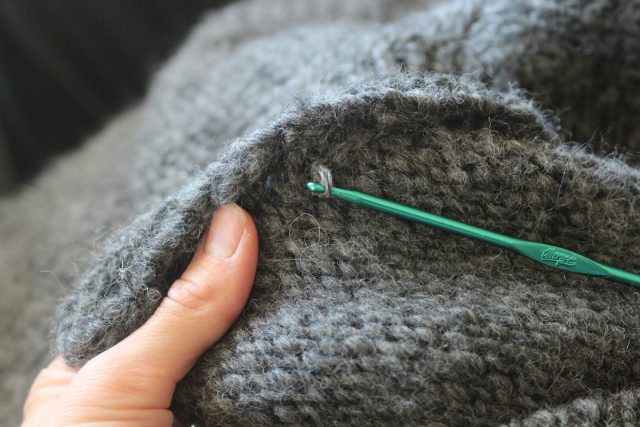 …by crocheting through both thicknesses
Next I took a hair tie and gathered the sweater at the top to see how much I did need to cut off.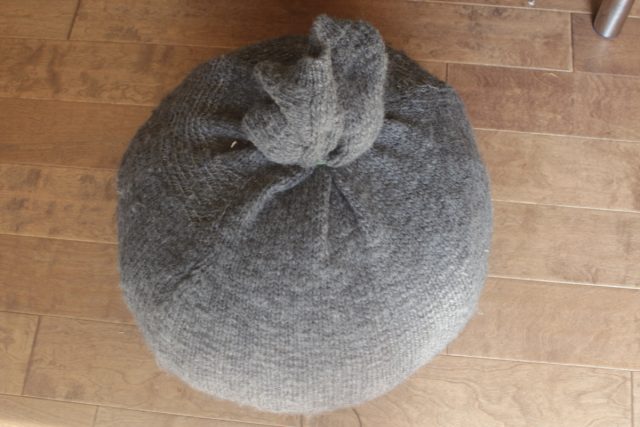 I left a little extra for "just in case" and snipped and unraveled it across in a straight line, putting each loop on a knitting needle.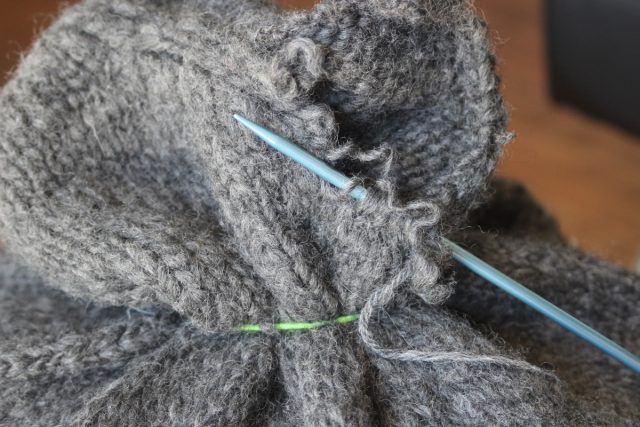 unraveling it, putting each loop on a knitting needle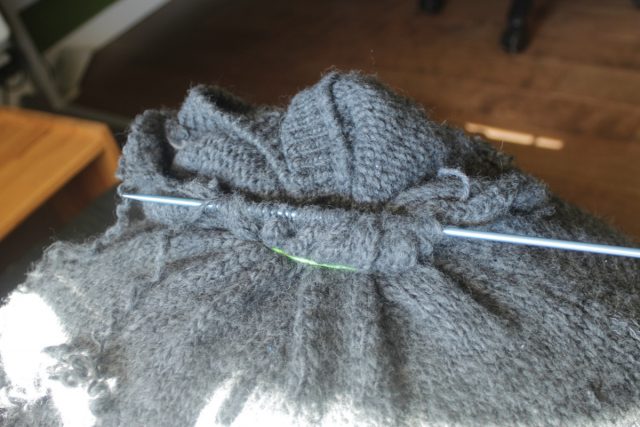 Half of the sweater (side seam to side seam) unraveled
When I got to the end of half the sweater (side seam to side seam) I cast off to give it a nice finished edge. I repeated this on the other side. I was in a very meticulous mood, but just in case you aren't or don't know how to knit, or don't want to spend the time, you can easily cut the sweater across and sew it to finish the ends. I recommend a zigzag stitch if you don't have a serger.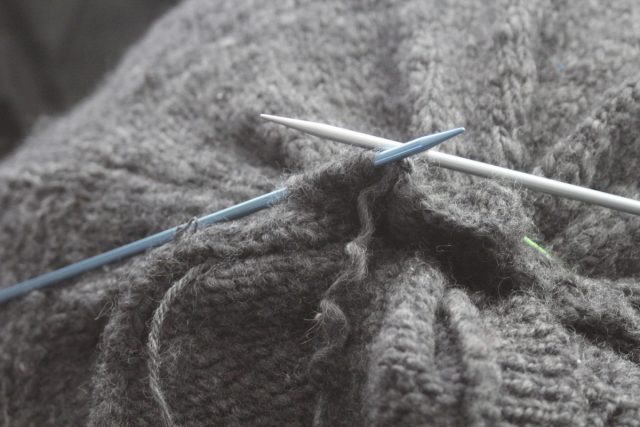 casting off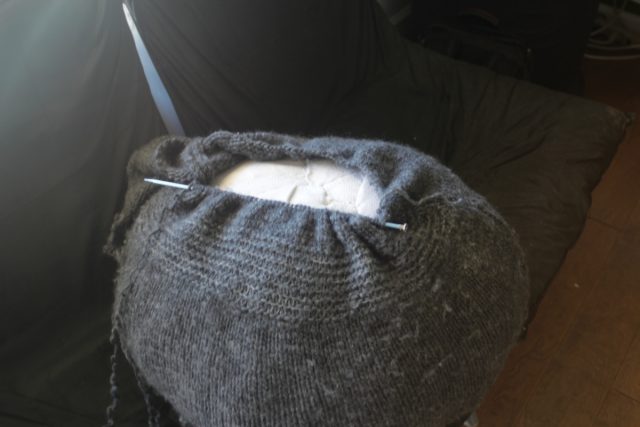 2nd half unraveled, ready to be cast off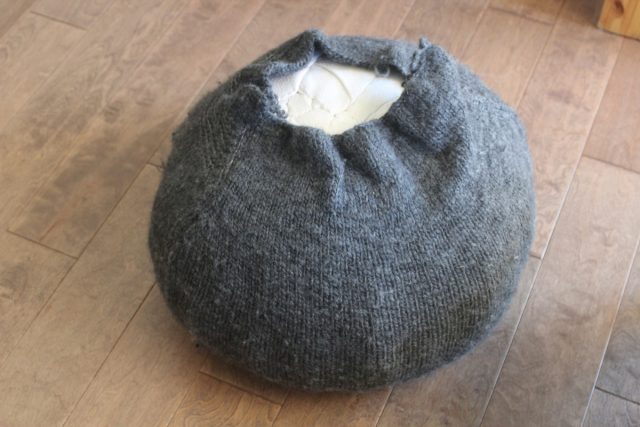 top edges finished
The last step was to weave the cord through, pull it tight, knot securely, and stuff ends and extras into the inside.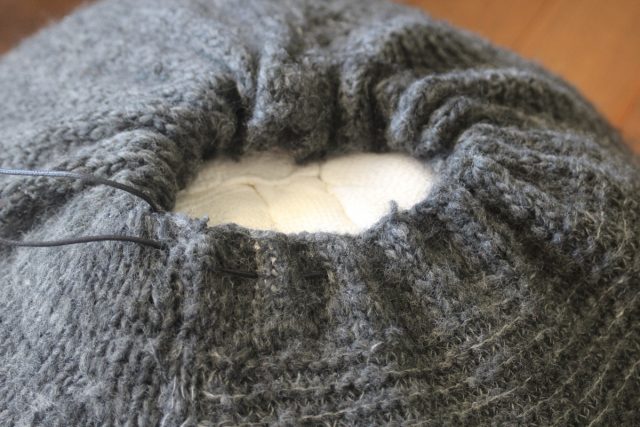 cord woven through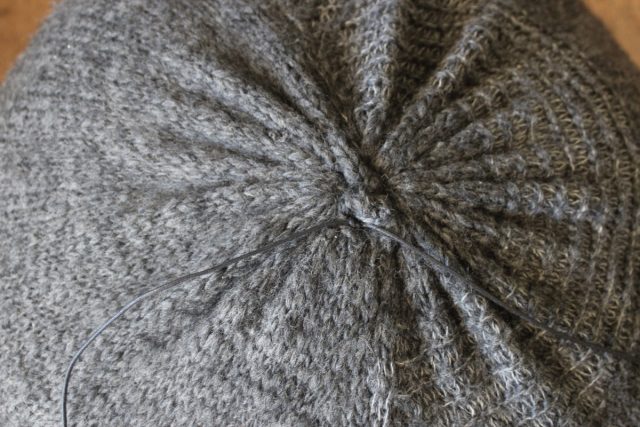 pull tight and tie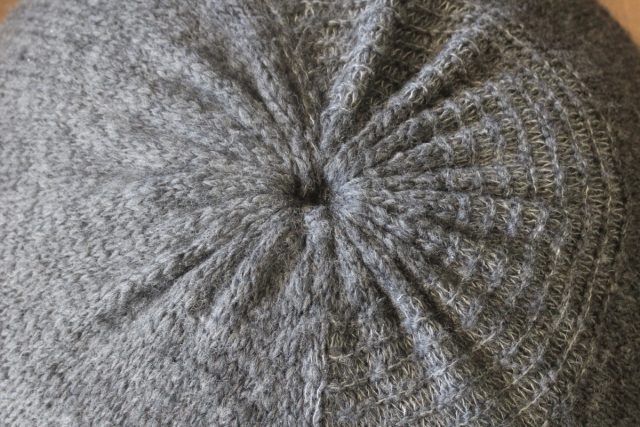 ends and edges tucked inside
I love my new footstool and want to go looking for a more colorful sweater and make another! This also works as a low side table/stand with a tray on it for my morning tea and read. Lots of feet will be put up here while board books are read to babes and teas and coffees are sipped and crocheting done… and who am I kidding? Ok, a bit of tv will likely be watched too. 😉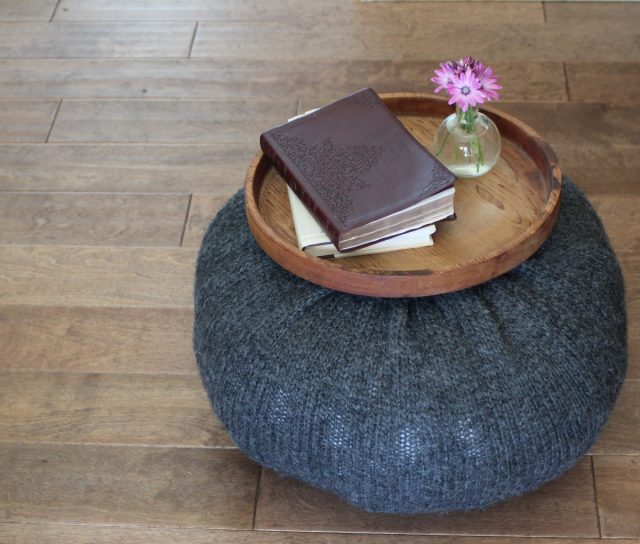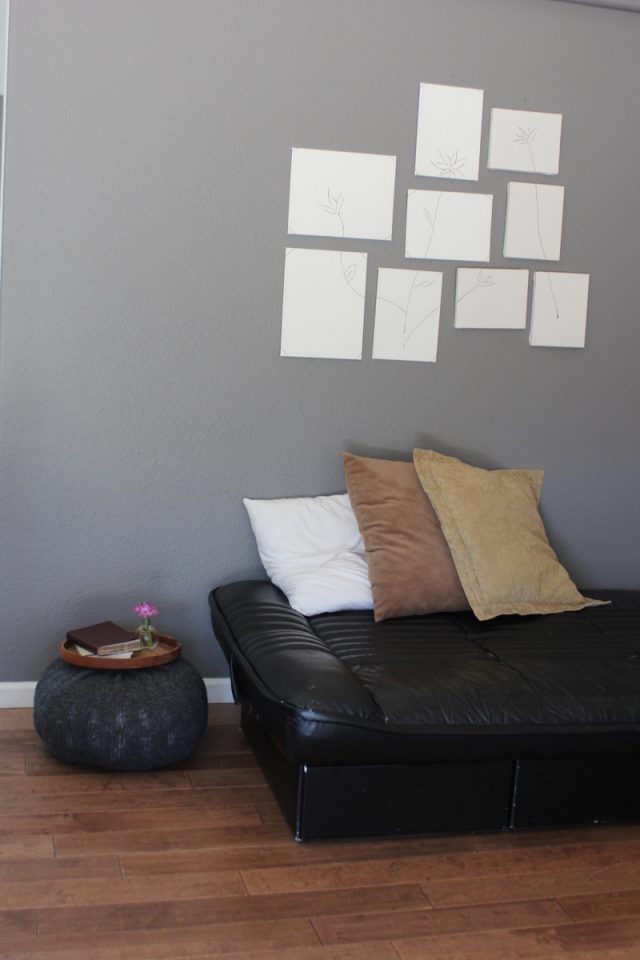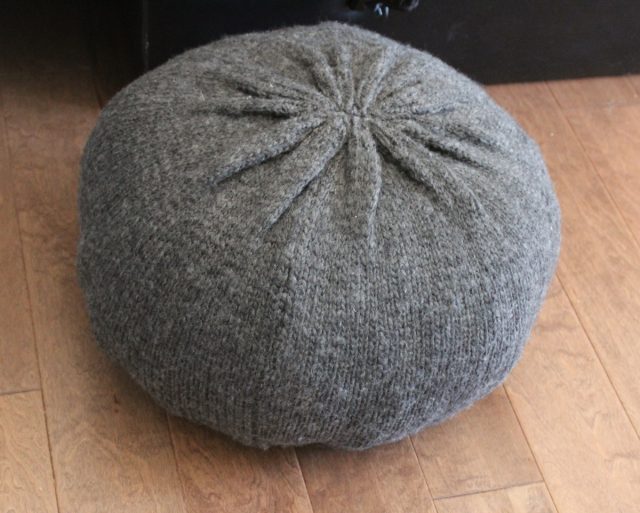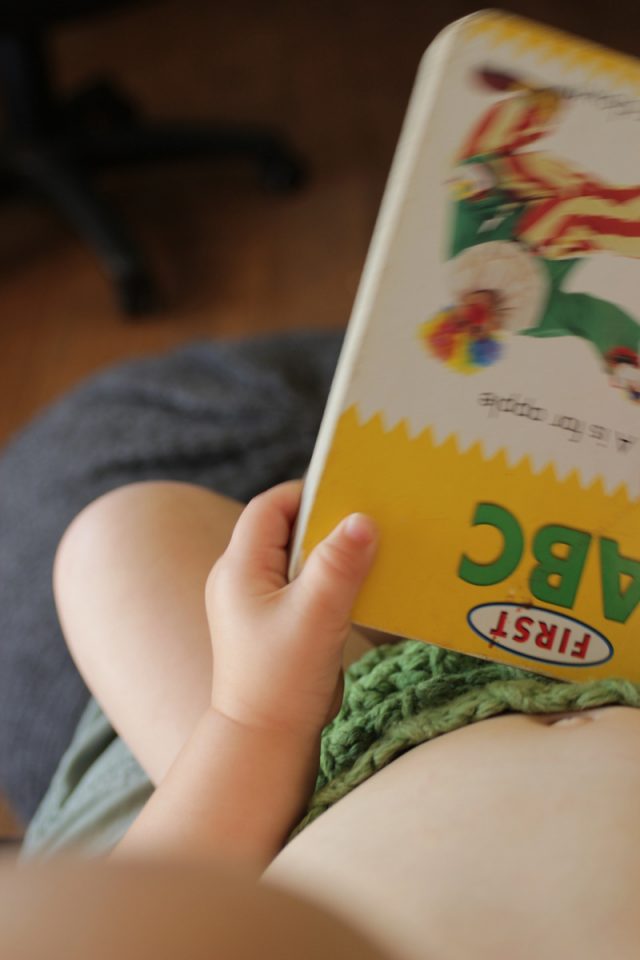 reading with the baby